I just realized I never got an extract for this...sorry for it being so late...I found a couple online but they're pretty long, so I've cut it down to two letters...I've chosen Lydia and Charlie...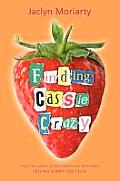 Lydia first: this is her first letter, back before she didn't know who Seb was...
Letter from Lydia Jaackson-Obennan of Ashbury High to A Person at Brookfield
DEAR PERSON AT BROOKFIELD,
I am a fish.
You wouldn't think so to look at me, what with the uniform, and the hair on top of my head and all that?
But it's true, I'm a fish.
I'm not sure what type, but I think maybe a cod. What are you?
My mother grew up in a pinball parlour, but then she dyed her hair purple, learned to fly a plane, and the rest, as they say, is history.
My father I never knew, except for this one time, when he threw a ball and told me to go fetch it.
'Dad,' I said. 'Am I a dog?'
'Lydia,' he said. 'I apologize.'
We haven't spoken a word to each other since.
He's the smartest man in the world, my dad, but you can't tell at all.
I'm having trouble concentrating because tic tacs keep hitting the side of my head. What should happen is this:
You should send me some dope and I should sell it. Or use it. We should do it regularly. You send it, and I sell it. It would be a bit like drug trafficking.
I've heard that Brookfield has a marijuana plantation instead of a sports oval. So I guess it's easy enough for you to get. Or are they strict about who can pick it? I hope not. It was my birthday last week and my friends, Em and Cass, made a chocolate cake. It had a lot of bourbon in the mixture, so it was excellent, and also strange. But the point is, we look out for each other, Em and Cass and I.
They look out for me by baking me birthday cakes. I look out for them by supplying their dope.
Do you think you can get it here by lunchtime?
Yours,
Lydia Jaackson-Oberman
P.S. Sorry about my name.
And now Charlie, somewhere from the middle of the book, I think. Don't actually have my copy handy so can't check...
Dear Emily,
Check it out. I JUST SAVED THE LIVES OF THE WHOLE SCHOOL.
I'm on the oval right now, and I can hardly see this paper through the tears of life-giving joy.
See those girls sitting cross-legged and singing the theme song from
Friends
? They wouldn't be doing that right now if it wasn't for me. See that guy over there taking the shoelace out of one of his sneakers? Same thing. That girl picking her nose? SHE WOULD BE DEAD AND HER NOSE WOULD BE FULLY UNPICKED IF IT WAS NOT FOR ME.
That guy with the sneakers is now using the lace to strangle someone, which is beautiful thing to see, Emily, and I made it possible, and that's why you are blurry through my tears.
Okay, check it out, I'll tell you what happened.
I was in the admin block, outside the principal's office. I won't go into the reason why I was there, because that would destroy the flow of the story.
The fact is, I was there, and on my own because the secretary just went out for a moment, and the telephone rang.
So I answer the phone. "Hello?"
And this voice goes, "Hello?"
And I go, "Hello?"
And this voice goes, "What?"
So I go: "Brookfield High School. How may I direct your call, please?" as per what I hear the secretary say every time I'm waiting there.
Then this voice goes, "Yes, hello, I'm with the Local Gas Authority and I'm calling from the basement of your school here. I'm just checking the main gas line and there is a serious leak here. Really, so serious that at any moment there could be an explosion. I myself am about to run to my car and get the hell away, but I thought I should let you know so you can sound the fire alarm and get everybody out of the school and onto the oval."
Check out how cool I was under pressure:
I just said, "Thank you very much, and please get yourself out of there and save your own life." Then I hung up, switched on the P.A. system, and said,
"THERE IS A GAS LEAK IN THE BASEMENT OF THE SSCHOOL THERE IS NO NEED TO PANIC. IT IS JUST A GAS LEAK WHICH MAY LEAD TO AN EXPLOSION AT ANY MOMENT. PLEASE ALL GO TO THE OVER, AS PER THE FIRE DRILLS."
Then I found the fire alarm and pressed the button.
So then of course the doors all around me open and the principal practically kills me to switch off the P.A., and somehow I landed on the office floor but I kept my dignity.
So that explains why I am on the oval right now and not doing my Origins of the First World War examination, and also why I have now got a new faith in humanity, on account of being its savior.
When you think about it, the young people are the future, so I have saved the future.
There are even a couple of police here right this minute scouring the school for gas leaks, which includes my brother Brian ( I don't mean my brother Brian is a gas leak, he's a cop), so I'm hoping they'll get to the lead in time and patch it up, maybe a bit of Blue Tack or chewing gum, whatever you do in an emergency.
Or in the alternative, I hope they get everyone of there, including the fish out of the school pond and the flying foxes from the attic and then the gas leak explodes and then the school is, like, fully gone. Pffwt. (Open your hand out wide to indicate that there's nothing there anymore, as per your average magic trick.)
No more school.
Anyhow, I hope you don't send an empty envelope next time.
Catch ya,
Charlie
P.S. I liked your handwriting in your last letter. It was cute.
Hope you liked them :)
Allie